DUE TO THE CURRENT PANDEMIC our farm is observing social distancing standards and we will be hosting any public events online or social distance tours by appointment only. We are upgrading our social media platforms so you can keep up with what's going on at the farm. Join us on YouTube, Facebook, or Instagram.
Thank you for your interest in Living Energy Farm and our events! As soon as we plan another event in person, it will be hosted here. For a more up to date reference of online events, you can follow us on Facebook.
Virtual events:
This one is our presentation from Earth Day
Join us for an Earth Day presentation 🙂

Posted by Living Energy Farm on Wednesday, April 22, 2020
This is a tour of our garden and walk around one of our fields. The heat ended up turning off our technology before we got to the back field.
Welcome to the virtual tour of our garden! Feel free to ask live questions 🙂

Posted by Living Energy Farm on Saturday, June 27, 2020
Here is a link to some other articles or videos.
Here is an example of a previous in-person event: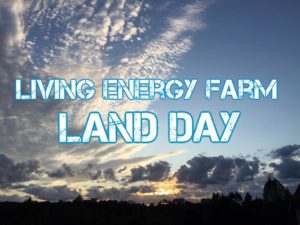 Come join us for our 9th anniversary celebration party of having the land at Living Energy Farm! Come find out what we are all about, and what it's like to live off the grid and live sustainably off the land.
Agenda:
1:30-4:00 Tours on demand: Agricultural Tours and Solar Technology Tours
Activities for kids (or anyone)
2:00-3:00 Scavenger or Treasure hunt 3:00-4:00 Cooperative Games
4:00-5:00 Arts & Crafts
4:00-5:00 – Sharing our Vision Slide Show How far we've come & where we are going!
5:00-6:00 Dinner (Pot luck!)
6:00-7:00 Open Mic
7:00 Bon Fire (treats & fire spin/contact jam, and drum circle)
If you would like to volunteer for any of these festivities or if you have any questions, please email livingenergyfarm@gmail.com
Yes, if you're coming from a distance – feel free to join us for the sleepover!! We're piling up pillow forts in the main space. For more private sleeping quarters, feel free to bring a tent – there's plenty of room.
Hosted by Living Energy Farm
www.livingenergyfarm.org
Innovating smart, sustainable off-grid energy systems for everyone.
More about LEF's solar charging and lighting kits here: http://livingenergyfarm.org/wp-content/uploads/2019/08/LELCS6.pdf